That DP Ruto is a political child of former dictator Daniel arap Moi who came into prominence in 1992 as Treasurer of Youth for KANU 92 (YK92) is no secret. KANU 92 was a marauding and gangster-like lobby group that was set up by KANU to drum support for the re-election of Moi at a time when he was very unpopular.
After Moi was installed as President following the 1997 elections, Youth for KANU 92 became irrelevant and Ruto became politically unemployed. It is at this point that the son of Eldoret plunged into electoral politics eventually emerging as the winner of the Eldoret North Parliamentary seat. Ruto had no problem capturing his seat because he had the support of President Moi whom, as President of the Republic, called the shots in the wider Rift Valley Province dominated by members of Moi's Kalenjin ethnic group.
The real political profile of the real Ruto emerges after his election to Parliament on a KANU ticket both in December 1997 and December 2002.
After Raila opted for a political pact with Moi when he (Raila) failed to become President in the 1997 election, and after Raila fused his National Development Party (NDP) with KANU to form the New KANU, Ruto supported the move because this was not just politically expedient but because Ruto had to support anything Moi said since Moi was the kingmaker in Rift Valley.  As soon as it became clear that Moi had other ideas that were represented by "Project Uhuru," Ruto became one of the most ardent opponents of Raila Odinga in his quest for the Presidency because Ruto was dancing to the tunes of Moi and other senior Kalenjin politicians such as Nicholas Biwott.
Ruto was among KANU sycophants who once created great anxiety to the Kenyan nation by making a public declaration that it was fine for Moi to rule Kenya for the next one hundred years.
At a fundraiser for Kaiti Educational Fund in June 2000, Ruto was quoted in The Daily Nation saying that "As far as President Moi's retirement is concerned, it is up to those who voted for him to decide. Right now, we are still okay with him going on even for another 100 years."(288)
Ethnicity and loyalty to key political personalities are among the factors that most influence voting patterns. If, for instance, Kenyatta and Odinga were to campaign together for constitutional amendments, it is likely that they could generate substantial support for the changes they desire.
In the current political environment, only an opposition movement led by Ruto could hope to match their influence. It would be somewhat reminiscent of the 2010 constitutional referendum, which pitted Ruto on the "no" side against Kibaki (then president) and Odinga on the "yes" side.
One of the most impotent – and ironically important – positions in the structure of Kenya's 2010 Constitution is the Office of Deputy President.
The number two office in terms of State hierarchy sounds powerful but is in actual fact just imposing.
The President can render the Deputy President insignificant – utterly ceremonial – at his own pleasure.
Under previous constitutions, the Vice President – as the principal deputy to the President was then called – served at the mercy of the President. Mzee Jomo Kenyatta, the Burning Spear himself, fired a couple of deputies in his day. But it was President Daniel arap Moi who perfected the art of swinging the axe to guillotine his vice presidents. Mr. Moi was so ruthless that without the courtesy of forewarning, he once fired a deputy through the one o'clock news on Voice of Kenya radio. Mr. Moi was such a practiced serial sacker that he changed his deputies like dirty shirts.
Kenyans were so fed up with Mr. Moi's imperial powers that they decided to protect the Office of the Vice President from presidential whimsical fancies.
That's why the 2010 Constitution doesn't give the President any leeway to fire the Deputy President. In Article 150 of the Constitution, the DP's job security and tenure are fully insulated from the President. Although the DP is picked as a running mate by the President – and they run as a ticket – that's the extent of the latter's powers with respect to the security of tenure of the former. The DP can be removed for physical or incapacity and by impeachment but not by the President.
Why am I spelling out? Unless you live in a cave, by now you know Mr. Kenyatta has had it with Mr. Ruto. If it was a marriage, Mr. Kenyatta would've divorced his deputy with a snap of the fingers. Mr. Kenyatta has all but told his deputy to go jump into a lake.
That's because Mr. Ruto has defiantly refused to shelf his burning ambition to replace his boss. If it were up to Mr. Ruto, he would leave Mr. Kenyatta no room to build his own legacy. Mr. Kenyatta has openly told his deputy and his sycophants off but to no avail. Instead, they've told Mr. Kenyatta to resign if he won't guarantee Mr. Ruto an endorsement.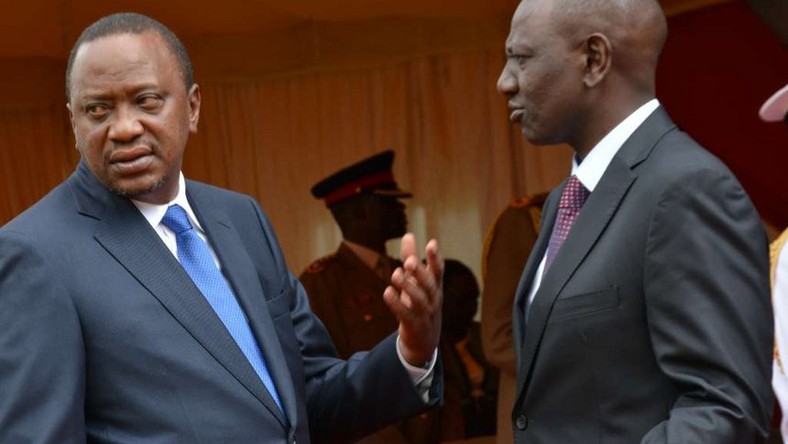 Finally, the chicken have come home to roost. Mr. Kenyatta can't contain his anger any longer. Uhuru told Mr. Ruto to his face at the annual commemoration of Mzee Kenyatta's death that the narrative pitting "dynasties" against "hustlers" won't make him President!
Soon thereafter, Mr. Kenyatta gave Interior CS Fred Matiang'i even more powers. Mr. Matiang'i now oversees not only the Big Four agenda but effectively coordinates the daily running of Government. Mr. Matiang'i is a de facto Prime Minister in all but name.
What Mr. Kenyatta has done is very clever. He's neutered his DP since he can't sack him. Mr. Kenyatta knows the Office of DP is an empty vessel.
The Constitution doesn't give the DP enumerated powers, except that he is the President's "principal assistant". That's an innocuous title devoid of any powers except those delegated to by the President. Only upon a vacancy, temporary absence, or incapacity in the Office of the President does the DP become important. In those cases, the DP can either act as President or assume the Office of President. Otherwise, the President can turn the DP into a flower girl, or expensive china that gathers dust in the proverbial cabinet.
What Mr. Kenyatta has done is to respect the black letter law regarding the DP but cannibalised its spirit by making Mr. Matiang'i in effect his "principal assistant". This single stone kills several birds. It cuts Mr. Ruto to size and denies him the ability to market his candidacy.
His duties have been assumed by Mr. Matiang'i. Secondly, it allows Mr. Kenyatta to retake control of Government and his legacy.
They say the bigger they are, the harder they fall. Mr. Ruto has fallen hard from his days as "Co-President". The chickens have come home to roost!
Speaking on Wednesday, 4th December 2019 in Kiambu County, a visibly angry President Kenyatta called out the leaders, most of whom are allied to Deputy President William Ruto, saying they lack a sense of direction.
"There comes a point where we say enough is enough and we are tired! Before we released the report, they were all over for a month lecturing us about things. Now the report is out and they have taken another direction. These are people who do not know where they are headed," said Kenyatta.
In the off-the-cuff speech made in his native Kikuyu language, the President sounded a warning to the political leaders seen to be undermining his quest to have the BBI report successfully implemented.
Those who have known the President over the years will tell you this is the real Uhuru Kenyatta. A firm, steadfast, yet reflective personality. Under that easygoing personality lies a man of steel, the Burning Spear