Nothing in politics happens by accident, including William Ruto watching a "Harambee House" meeting from a window of this "annexe" office.
To assume that William Ruto will become President simply because of his "personality," "work-ethic" or some imaginary political debt owed to the people of Rift Valley by a block of voters elsewhere, is pedestrian thinking.
The majority of people supporting Deputy President William Ruto are pretending except for a few guys from Rift Valley, a case study of those three young men who burnt newspapers in protest of the DP.
Unfortunately, it's hard to differentiate real soldiers like Caleb Kositany from fake & imagined supporters like Sylvanus Osoro, Boni Khalwale, Ndindi Nyoro, Alice Wahome etc. in this era when conmanship, deceit, and hypocrisy take centre stage in our politics.
William Ruto's rise to the deputy presidency was a boardroom deal facilitated by the 'oil men', riding on prevailing anti-ICC emotions then. It is the same oligarchs that will deconstruct him into oblivion should political pragmatism demand thus.
However, it will not be a walk in the park for the man from Sugoi as some folks are suggesting. Raila Odinga is more "electrifying" with a near fanatic following around Kenya, yet he never became President.
By the time we get to 2022, the political terrain will be so unfamiliar that it won't matter much in terms of "who owes who what." It will be a race for survival of the fittest.
This is the season of ruthless alignments and betrayal galore. Political alliances however rosy are not to be mistaken a wedding, marriage or love affair.
The dalliance between Uhuru and Ruto is fast coming to an end.
Uhuru read the riot act during the formation of his government for his legacy term. It is business unusual.
The shared press conferences in white shirts, folded sleeves and red ties are no more. Time for ruthless backroom dealing. No room for emotions or glittering public relations antics. No room for "my brother, my friend." It is time for zero emotions, just the pursuit of raw political interests.
However, DP Ruto cooked his goose that laid golden eggs the moment he started campaigning for the 2022 elections while the incumbent had a whole second term stretched before him.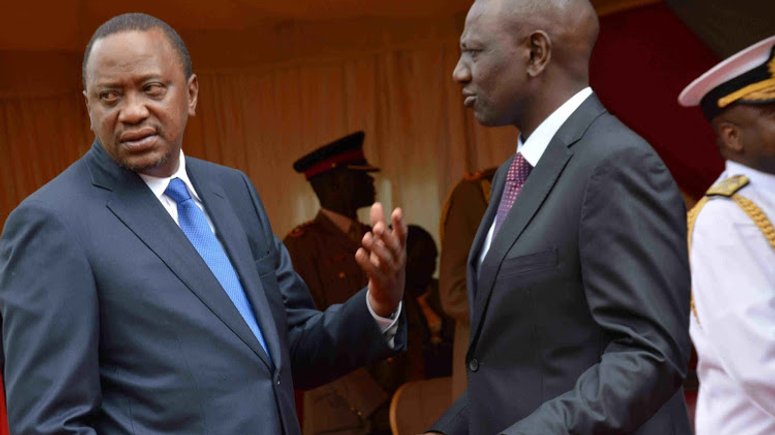 In his rallies he took centre stage and undermining his boss by not following the 48 Laws of Power, and now for him, there is no reverse, he has passed the crescendo. Ruto lifted his political arsenal too early and woke up the King's inner circle which saw a threatened throne and legacy.
Ruto is a shrewd and ruthless politician with a lot of zeal. My only worry with him is his arrogance and absolute open hunger for the big office.
He should remember that he is working under a President who is powerful and enjoys the backing of some other influential figures.
Nobody should cheat you that Ruto is strong or he has the people behind him; if he is strong enough he should resign and plan his own game like Jaramogi Oginga & Raila Odinga did in the past.
If today, for instance, Raila Odinga supports Dr. Fred Okeng'o Matiang'i for President, trust me there will be no elections as Matiang'i will take an early landslide win and Ruto will be long forgotten and thrown into the political abyss.
Comparing Ruto's arrogance and open hunger for presidency is United States' deputy president or Vice president that is the world superpower by an array of sheds, Mike Pence. Pence stands beside his boss, President Trump in daily COVID-19 pandemic briefings.
Remember, Mike Pence was elected together with President Trump but we never hear him contradict his boss.
Here in Kenya, we were once told in a presser it ain't happening because the two top public servants even in normal circumstances cannot ride in the same vehicle in the interest of the nation.
Well, be it as it may, DP Ruto may need in this time of pandemic to reflect and take stock.
He may just need (post-Corona) to do a total overhaul of his inner circle, mass firings and to some 'social distancing' because they are misleading him. He is alone; Cabinet Secretaries aren't taking his calls and the security agencies are no longer interested in him.
The most difficult President to work with in my opinion is US President Donald Trump. The mass turnover of senior officials in the federal government during his tenure tells it all but look at his deputy Mr Pence; he is calm, loyal and always by his boss without ruling out that he could have ambitions to be President of USA in future, but he doesn't even talk about it because the office is not vacant and he could easily be one as he has what it takes.
DP Ruto has what it takes but he has to live a day at a time. I pray that he derives lessons from Mike Pence; humility or even Joe Biden who was very loyal to his boss and now earning the fruits of his loyalty; endorsement.
Mark my word; President Uhuru is a team player more than President Trump and former President Obama.
Keenly looking at DP William Ruto's style of politics, what he says is the exact opposite of what he does in real life. All deputies to the previous Presidents have been humble and submissive to their bosses but this one (Ruto) is arrogant, abusive, proud and a know-it-all-person even to the extent of branding the President's handlers as "crooks."
DP Ruto doesn't learn from the late Daniel Moi's many years of silence and absolute submissiveness to Mzee Jomo which in effect earned him presidency on a silver platter despite minor opposition from the likes of Kihika Kimani.
Ruto shouldn't underrate Presidents' intelligence.
Ruto just dared the system not once but severally in a most severe way. What he keeps forgetting daily is that he is a product of the system.
Of late, Ruto has discredited most Kenyans with their vote and support, for being proud, disloyal to his boss, being in almost every scandal that arises in Kenya, overstepping his mandate, being more of power-thirsty than people-oriented, by starting campaigns as early as 2018 immediately after being sworn in for their second term; this and other shortcomings will deny him the top the seat, and his dream completely reduces itself to a wet dream.