Kenyans have had enough of the corruption scandals in the country and are coming up with new brilliant hashtags to at least help in fighting the vice that has ailed Kenya for years.
Concerned netizens noted that DP Ruto, the second in command who should be assisting President Uhuru in fighting the vice is, however,  facilitating the vice by accommodating legislators who either have an ongoing court case or is involved in a corruption scandal that is under investigations.
Using the hashtag #TangaTangaThugs, KOT highlighted the leaders who have not lived up to expectations and revealed mega corruptions scandals stretching from land grabbing, inflated government tenders, money laundering, to looting CDF kitties among others.
The way William Ruto has accommodated thieves in his house only shows how his dream for Kenya is, the reason why Uhuru got sick of him is that he values corruption more than anything.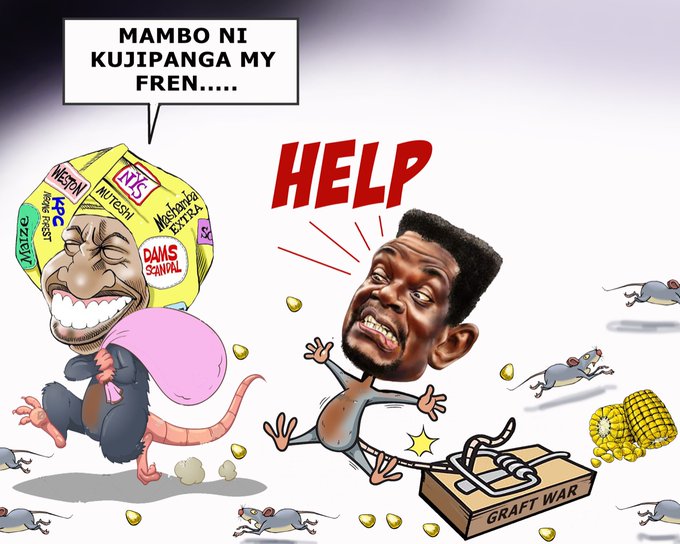 A visibly angry netizen noted that the Tanga Tanga thugs are Enemies of progress. They are curtailing the President's big 4 agenda for Kenyans.
Another one noted that the real hustlers are the Kenyans who are struggling every day to afford basic things like food, not these people who have enriched themselves with taxpayers' money. Is DP Ruto using the Hasira Nation to gain the mileage?
WILLIAM RUTO has perfected his art of deceiving gullible Kenyans by continually quoting the Holy book and calling everyone who differs with him a Mganga, Mwizi, Mlevi, Mkongwe etc. He has had his field day with all forms of demeaning political imputations, smudging himself as the messiah for the less privileged Kenyans. What his followers have forgotten is that a thief remains a thief no matter how many Bible verses they choose to quote. Similarly, a killer never changes. William Ruto is a ravenous thief and a dangerous murderer.
Here are more comments;
Voting for William Ruto who is a Serial thief, Renowned Murderer and unapologetic land Grabber is like accepting back a cheating & Abusive girlfriend hoping that she will shun her old ways. In 2022, DP Ruto shouldn't be near any public office. #TangaTangaThugs pic.twitter.com/uzeIErFIVZ

— KISII COOL (@KisiiCool) June 29, 2020
5. Right now you may think Moses Kuria isnt an MP in Kenya, he's hiding in a toilet after looting Gatundu CDF. Kimani Ngunchiri is silent after grabbing Ngong Forest. Rigathi Gachagua is silent after stealing 5.8 billion. Silence is their other name after theft. #TangaTangaThugs pic.twitter.com/W71BXpYIVQ

— #UNSC (@Ogari_Mtetezi) June 29, 2020
4. The group has VERY FEW WOMEN dubbed Inua Mama whose work is to pose for photos and selfies. They have no meaningful agenda apart from masquerading for handouts in Sugoi Criminal Scene. Congratulations to six of them who are now pregnant & the group died. #TangaTangaThugs pic.twitter.com/xj1jqjctI0

— #UNSC (@Ogari_Mtetezi) June 29, 2020
1. Irony of it all is that when caught, their Chief Architect William Ruto keeps quiet as if nothing is happening. Ruto denied knowing Waluke. He also said the only Rigathi Gachagua he knows is a PC? 2ndly, the younger thugs are in Twitter defending the old thugs#TangaTangaThugs pic.twitter.com/cXN7GfAJrd

— #UNSC (@Ogari_Mtetezi) June 29, 2020
William Ruto should be stoned in public for stealing from public coffers and for all the people he has killed over the years … We must have the boldness to hold the bull by the horn and to say enough is enough ! #TangaTangaThugs pic.twitter.com/cHl2j4ssHy

— MUGAMBO WA AFRICA , MBS . (@IanJamesMwai) June 29, 2020